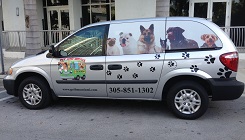 Pet Transportation Services.
Thank you for letting us show what we can do for your pets and ease of mind. Here at Pet Limo Services we specialize in Pet Transportation (Includes Cats) to and from the Pet Day Care, the Veterinarian or where ever you need. We also provide Dog Walking Service.
Pet Sitting and Walking.
What makes Pet Limo Services so special is that we take Care of your pets in your home and that is what makes us different from dog daycares. Your pets don't have to leave the comfort of their home.